Har lige bestilt et par Sena 30S, nyeste udstyr som understøtter mesh.
Vores Sena SMH5 kommer til salg for 800 kr for begge til sammen. De fejler intet.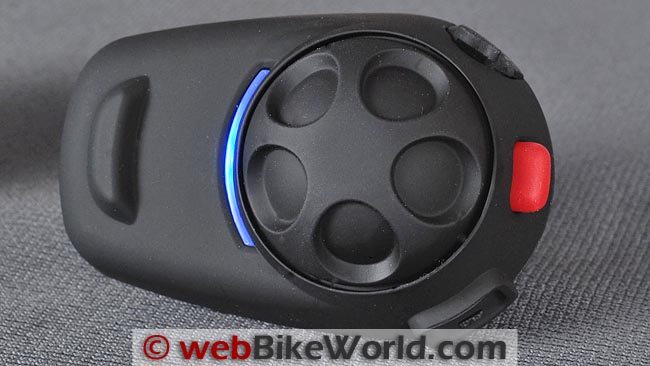 The SMH5 Bluetooth Communication System is a Bluetooth 3.0 stereo headset with Bluetooth intercom designed specifically for motorcycles. With the SMH5, you can call hands free on your Bluetooth mobile phone, listen to stereo music or voice instructions of GPS navigations by Bluetooth wirelessly, or stay connected to your riding companion for conversations and music sharing with the crystal clear sound via two-way intercom. The Jog Dial and integrated button makes for an intuitive user interface that is much easier to control with minimal fuss while riding, which means you'll ride safer.
Bluetooth 3.0 communication system with HFP (Hands-Free Profile)
Bluetooth HSP (Headset Profile) for Bluetooth GPS instructions and MP3s
Bluetooth A2DP (Advanced Audio Distribution Profile) with built in SBC Codec (Low Complexity Subband Coding)
Bluetooth pairing for two mobile phone for music and calls, or mobile phone and GPS
Bluetooth AVRCP (Audio/Video Remote Control Profile) music playback control allows play, pause, track forward and track back
Talk or share playlists with two-way intercom functionality
Full Duplex intercom with one to one intercom connection
Intercom range up to 430 yards (400 meters) in open terrain/line of sight
Universal Intercom allows intercom connection with other brands
8 hours talk time, 7 day stand-by time, and can used while charging
Universal microphone helmet clamp is ideal for all types of motorcycle helmets
Helmet mount uses helmet speakers with either wired mic or wired boom mic
High quality HD speakers deliver crystal clear audio with wide volume control
Audio Boost automatically increases volume in noisy environments
Advanced Noise Control technology helps reduce ambient noise
Each audio source has its own independent volume level
Jog Dial control makes for easy operation on the fly
Integrated voice prompts provide informative feedback
Firmware upgradeable for free, for life
Two year manufacturer's warranty
C.E., FCC, and IC certified
General Specifications:
Talk time: 8 hours
Standby time: 7 days
Working distance (Intercom): up to 430 yards (400 meters) in open terrain
Maximum number of intercoms: 2
Operating temperature: 14°F - 131°F (-10°C - 55°C)
Battery charging time: 2.5 hours
Battery type: Lithium polymer
Headset dimensions: 2.8 in x 1.8 in x 1.2 in (69.9 mm x 45.0 mm x 30.6 mm)
Clamp unit dimensions: 1.9 in x 1.5 in x 0.9 in (49.2 mm x 38.9 mm x 22.1 mm)
Headset weight: 1.41 oz (40 g)
Clamp unit weight: 1.34 oz (38 g)
Bluetooth Specifications:
Bluetooth 3.0
Headset Profile (HSP)
Hands-Free Profile (HFP)
Advanced Audio Distribution Profile (A2DP)
Audio Video Remote Control Profile (AVRCP)
Audio Specifications:
Advanced Noise Control
Wind noise reduction
Built-in SBC Codec
Wide volume control
Sample rate: 48 kHz (DAC)
http://www.mmmotor.dk/produkter/158-sen ... belt-saet/